Parts
Our show room is fully stocked with parts for your sandrail, VW Bug, Baja, Bus or Street Rod.
See our sister site for all your tank needs.
AluminumGasTanks.net


We also have an extensive collection of used parts. Can't find that last piece to finish off your Bus, give us a call.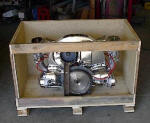 We Ship Large Items